Rain and Spray Test Chamber Features:
2 rain nozzles for R1 R2 rain testing

40 spray nozzles for S1 S2 spray Testing

Comply with JIS D 0203 test standard

Flowmeter to control the water pressure

Water Re-circulation System

Automatic water supply ensures the adequate supply of water and automatic testing

The internal material is 304 stainless steel, mirror surface

Programmable color display touch screen controller

USB and Ethernet

A viewing window with a wiper

Standard and customized

CE ROHS mark

It is mainly applied to the automobile industry
Rain and Spray Test Chamber Model:
Model

R-1000JIS

Internal Dimensions (mm)

1000*1000*1000 D*W*H

Overall Dimensions (mm)

1100*1460*1900 D*W*H

Interior Volume (L)

1000

Distance from Specimen to Nozzle

Approx.400mm

Rain Nozzle

2 holes

Rain Nozzle Hole

Φ0.5mm

R1 Water Flow Rate

1.9L/min.

R2 Water Flow Rate

3.3L/min.

Spray Nozzle

40 holes

Spray Nozzle Hole

Φ1.2mm

S1 Water Flow Rate

24.5L/min

S2 Water Flow Rate

39.2L/min

Water Pressure at Nozzle

0.03 ~ 0.30MPA

Turntable Rotation Speed

17r/min

Water Pressure Control

Flowmeter

Controller

Programmable color LCD touch screen controller

Safety Device

Over-temperature Protection; Over-current Protection;

Water Shortage Protection; Earth leakage Protection; Phase Sequence Protection

Exterior Material

Steel Plate with a protective coating

Power Supply

380V 50Hz

Standard

JIS D0203
Rain and Spray Test Chamber Accessories: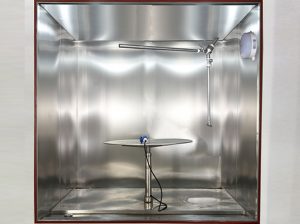 Workroom
The internal material is 304 stainless steel, mirror surface, rust-proof, high temperature and corrosion resistance; Nice ruggedness and long life.
Flow Pipe
Flow pipe is made of stainless steel. Flow pipe shall be rotated around the axis X-S at the rate of approximately 23r/min.